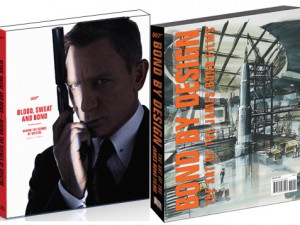 Two new James Bond books focusing on the new release SPECTRE have just been released and are now available to add to your collection!
Blood, Sweat and Bond: Behind the Scenes of SPECTRE, curated by photographer Rankin, showcases the actors, locations, stunts, film sets and special effects of SPECTRE. With contributions from unit-photographers Jonathan Olley and Jasin Boland and guest photographers Graciela Iturbide, Brigitte Lacombe, Anderson & Low and Mary McCartney, the book also includes specially commissioned portraits of the cast and crew.
Bond by Design features the work of legendary Bond film designers such as Ken Adam, Peter Lamont, and Syd Cain. It offers behind-the-scenes artwork from the latest film, SPECTRE and includes two exclusive prints and authoritative text by Meg Simmonds, providing unique and fascinating insights into this hugely successful film franchise.
Around the Web:
Comments: