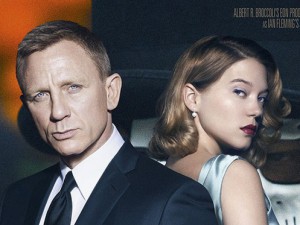 The latest James Bond installment, Spectre, starring Daniel Craig, held on to the top spot at the weekend box office, earning an additional $35.4 million. Despite dropping almost 50 per  cent from its premiere weekend, it easily fended off two new wide releases. You can read our review of Spectre by clicking here. Our Tribute.ca fans loved it as well, rating it 4.1 stars.
Also holding onto last week's spot was the long-awaited big screen appearance of Charlie Brown and his pals in The Peanuts Movie, which finished in second place with an estimated $24.2 million. Tribute.ca users are fans of this film, giving it 4.5 stars.
Debuting in third place was the Christmas comedy Love the Coopers, which has an all-star cast, including Amanda Seyfried, Olivia Wilde, Marisa Tomei, Anthony Mackie, Diane Keaton, Ed Helms and John Goodman. It took in $8.4 million and enjoys a rating of 3 stars from Tribute.ca users.
The Martian, which was bumped to third place last weekend after enjoying four weekends in the top spot, moved down another notch to fourth place in its seventh weekend in theatres. It took in an additional $6.7 million, surpassing the $200 million mark at the domestic box office. Audiences love Matt Damon in the role of an abandoned astronaut, giving the film a rating of 4.3 stars at Tribute.ca.
Rounding out the top five was the drama The 33, about the Chilean mining disaster, which stars Antonio Banderas, Juliette Binoche and Lou Diamond Phillips. It debuted in fifth place with an estimated $5.8 million. It's a fantastic retelling of events from the view of the miners and their families. Although it did well in South America, North American audiences don't seem to be rushing to see it. However, those who did see it gave it rave reviews, and it has a 5 star rating at Tribute.ca. Watch our interviews with the stars by clicking here.
~Sharon Salsberg
Around the Web:
Comments: