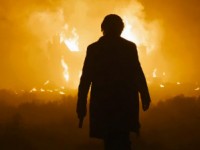 Skyfall Trailer
8181 views
In this latest trailer for the upcoming Sam Mendes-directed James Bond film, Skyfall, Bond returns from the dead to stop a threat against the whole of MI6.
Opening with the apparent, accidental death of Bond (Daniel Craig) at the hands of one of his own agents, MI6 discovers that a list of every undercover agent they have in terrorist cells around the world has been stolen and leaked. But when Bond returns – alive but extremely shaken – he quickly uncovers a plot that threatens his entire organization.
After being introduced to the new Q (Ben Whishaw), Bond is fitted with the latest weapons technology and sent to investigate a mysterious man named Silva (Javier Bardem). Playing mind games with him, Silva leaves Bond outmatched and unprepared – and MI6's last hope.
Around the Web:
Comments: