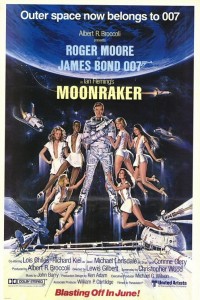 Henry Drax (Michael Lonsdale), the head of a privately-owned shuttle manufacturing company, reveals a sinister plan to destroy every human being on the Earth. After one of Britain's shuttles is hijacked in mid-air, James Bond (Roger Moore) is called in to investigate. He is thwarted, however, by the mercenary/assassin named Jaws (Richard Kiel), and when his continued investigations into Drax Industries leads to several attempts on his life, Bond pushes forward.
His mission leads him across the globe, from Venice to Rio de Janeiro. His shaky partnership with CIA agent Dr. Holly Goodhead (Lois Chiles) helps him to uncover Drax's evil plan: to release a deadly nerve gas—one that affects humans, but not animals—into the atmosphere of the planet from his hidden space station on the Moon.
With Jaws hot on their heels, Bond and Goodhead commandeer one of Drax's shuttles and make their way to the Moon, where an epic battle in space will decide the fate of humanity.
Moonraker Videos and Clips: