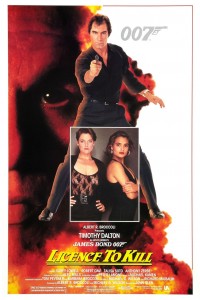 After Felix Leiter (David Hedison) is badly maimed and his wife murdered shortly after their wedding, James Bond (Timothy Dalton) vows revenge against the drug lord who is responsible, Franz Sanchez (Robert Davi). But when he is expected to return to work and ignore his vendetta, he resigns from MI6. Now a rogue agent with a revoked licence to kill, Bond goes after Sanchez.
Infiltrating his organization by posing as an assassin for hire, Bond is soon employed by the drug lord. As Bond gets closer and closer to Sanchez, he manages to discover the man's secret: his people have been dissolving cocaine into gasoline in order to smuggle it into the country.
Now, with an illegal drug trade to be stopped and his best friend to be avenged, Bond will stop at nothing—and do anything—to take down the evil Sanchez.
Licence to Kill Videos and Clips: