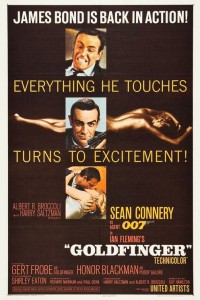 While in Miami Beach, James Bond (Sean Connery) is given instructions by his superior, M (Bernard Lee), through CIA agent Felix Leiter (Cec Linder). Bond is told to keep an eye on bullion dealer Auric Goldfinger (Gert Fröbe). He finds Goldfinger cheating at cards and by distracting his employee, Jill (Shirley Eaton), causes him to lose. Goldfinger's manservant then murders Jill by covering her in gold paint.
Bond returns to London, where he finds out his assignment is to figure out how Goldfinger is smuggling gold. He travels to Goldfinger's plant in Switzerland, where he learns that he melts gold down and blends it into the metal work of his car, which goes everywhere with him. He also learns that Goldfinger plans to hide an atomic device containing cobalt and iodine at Fort Knox to render their gold useless, thereby increasing the value of his gold.
This Bond film was the first to win an Academy Award. Norman Wanstall won for Best Sound Effects Editing. This is also the Bond film in which 007 says "A martini. Shaken, not stirred." The quote is ranked No. 90 by The American Film Institute in its list of best movie quote.