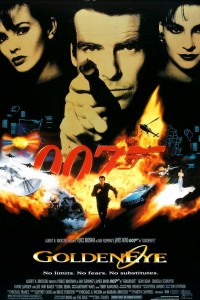 Years after losing his fellow agent (Sean Bean) on a mission to infiltrate and eliminate a chemical weapons facility, James Bond (Pierce Brosnan) discovers a nefarious plot by the Janus crime syndicate—one designed to steal from the Bank of England and cause Britain's economy to collapse.
With the GoldenEye satellite in the hands of the evil General Ourumov (Gottfried John), his henchwoman Xenia Onatopp (Famke Janssen) and Janus himself, Bond must recover control of the satellite before its unique electromagnetic properties can be used to destroy all the financial records in the country.
But when Bond discovers that Janus is actually his old partner—and that he faked his own death in order to punish England for the crimes against his family in World War II—the mission becomes personal. Equally matched by his old friend, Bond must rely on the brilliant programmer Natalya (Izabella Scorupco) in order to stop him.
GoldenEye Videos and Clips: